Korean Italy Towel
customers are viewing this product
The Korean Italy Towel is basically a cloth that is 100% viscose (viscose has several uses, but is most commonly used to make fabrics such as rayon). Korean Italy Towels are abrasive (think sandpaper), which is why they work so well for exfoliation.
Info
Similar to sandpaper, they also come in different levels of coarseness. The pink colored towel, for example, is the least abrasive and is commonly used on the face. The green towel is the most universal and can be used on most areas of the body (except for "sensitive" or "private" areas, of course). The yellow towel is the most abrasive and I would suspect that it's more popular among men, or for use on areas that can handle a little more exfoliation, like the feet. 
How to Use?
This product must be used when your skin is wet. For best results, you should soak for at least 15 minutes in a bathtub filled with water that's as warm/hot as you can stand it. If you don't have a bathtub, you can do this in the shower – make sure your skin is thoroughly drenched in warm/hot water for at least 15 minutes. For best results, no soaps, oils, or other products should be used in the tub/shower prior to exfoliating (i.e. no bubble baths).

To see whether your skin is ready for exfoliation, you can test a small area (such as the back of your hand) by rubbing the towel firmly in a back and forth motion (this may take a few passes with the towel). What you want to see is dead skin/debris starting to roll off (if you've ever been sunburned, it basically looks like that – your sunburned skin starts to peel and roll off, especially after showering). Only use enough pressure to get the desired affect, but do not use so much pressure that it causes pain (if you feel like you're working really hard to get the dead skin to peel, you may need to soak longer and try again). If you're not accustomed to exfoliating, this may cause some discomfort – you may only want to tackle small areas and work your way up.

This should go without saying, but if this causes you pain, stop immediately. Also note: if you want to exfoliate the skin on your face, be very careful – you may need to apply a little soap or facial cleanser to the towel and use VERY LIGHT, circular motions. THIS PRODUCT IS NOT FOR EVERYONE – you may want to consult with a doctor or dermatologist before using (you have been warned ;)).

If this Korean Italy Towel product/procedure works well for you, in most cases it can be used once per week (do NOT use daily).
Content from https://getwellified.com/exfoliation-softer-smoother-skin/
Ingredients
Orders are shipped within 24-48 hours of receiving the order, excluding Sundays and holidays.
Orders are usually delivered within 2-7 working days after shipping (excluding weekends and holidays). However, this is just estimated and not guaranteed because sometimes, there are delays that are caused by things that are beyond our control - either caused by the courier or the customers themselves, etc. (e.g. incomplete name, incomplete address, provided contact number cannot be reached, no person present to receive package, etc). So a gentle reminder to please double check your details and make sure there is an authorized person to receive your package. Should your order get delayed, feel free to contact us - we will do our best to help. :)
Returns, refunds, and exchanges are subject to the following conditions:
Due to the nature of our products, the ones valid for returns, refunds, or exchanges are only those received with manufacturing defect. 
Sale items are non-refundable and non-returnable.
Products that are defective can be refunded, returned, or exchanged within only 7 days upon receipt of your order. Outside this timeline, the product could have already been exposed to factors beyond our control which could have contributed to the damage/defect.
Products should be in its original purchase condition and must be unused.
Reviews
Customer Reviews
April R.
Philippines
I recommend this product
12/11/2019
Learn how to use and it will work wonders!
If you don't know how to use this product properly, you might find it 'ineffective' but doing the right search will give you your wanted experience! Bought it for a very low price last Black Friday sale and I have no regrets. Works more than what you paid for. :)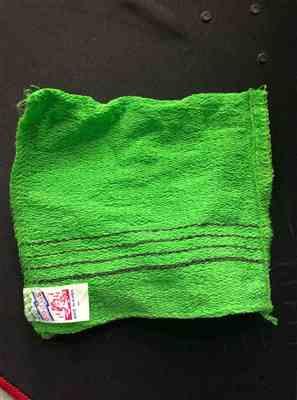 yy
Philippines
I recommend this product
11/05/2019
!!!
I didn't really think that it was going to be this effective. Will surely order this again!
Ja
Philippines
I recommend this product
10/17/2019
This is amazing!
I didn't know how to use it at first so I was a bit disappointed. But when I researched and learned how to use it, I can't stress this enough, it is so amazing! I bought the green one which I think is the perfect coarseness for me. If you're looking for a body exfoliator/physical scrub, this is the one!
Tori
Philippines
I recommend this product
10/13/2019
The best body scrub!!
I bought the pink one, although I don't use it for my face. I use it for my entire body and it's the best body scrub ever! I used to buy loofahs but after buying this. I will never ever buy loofahs again! This is the best body scrub. I don't recommend it for the face though since it's still rough.
KC
I recommend this product
10/08/2019
Exfoliation buddy!
I've been using this for a month now, once a week. And it's really making a difference on my skin. It's now smoother and you will really feel that you're cleaned every time you use this.