[CLEARANCE] Soon Jung ph 6.5 Whip Cleanser [Exp. Apr. 15, 2023]
customers are viewing this product
That elusive, ever-covetable South Korean 'glass skin' glow can be yours (at last!) all day long with Etude House Soon Jung ph 6.5 Whip Cleanser. A soft and moisturizing cleansing foam that boasts a healthy pH of 6.5, it melts away makeup and impurities while maintaining the skin's protective barrier to hydrate and brighten as it softens.
Info
What it does:
Featuring 98.9% naturally derived ingredients, Etude House Soon Jung ph 6.5 Whip Cleanser cleanses skin in the gentlest way possible.  Starring Panthenol, a skin-benefitting compound closely related to Vitamin B5, it floods parched cells with much-needed moisture to smooth, plump and restore youthful dewiness. Enhanced further with Madecassoside (derived from Centella Asiatica), this cleanser penetrates skin deeply where it sets to work in repairing, regenerating and replenishing. When pumping the foam, it creates mousse-like bubbles, and it easily and comfortably washes face without drying or dehydrating the skin.
Free of potential irritants like fragrance, artificial color, and parabens, this cleanser is great for even the most sensitive skin.
How to use:
Pump 2-3 times to get an appropriate amount of the foam.

Rinse off with lukewarm water.

Follow with the remaining steps of your skincare routine.
What you get:
(1) Etude House Soon Jung ph 6.5 Whip Cleanser 70ml or 150ml
Ingredients
Water, Glycerin, Sorbitol, Propanediol, Lauryl Glucoside, Disodium Cocoyl Glutamate, Panthenol, Madecassoside, Camellia Sinensis Leaf Extract, Butylene Glycol, Citric Acid, Glyceryl Caprylate, Ethylhexylglycerin
Customer Reviews
Write a Review
Ask a Question
I recommend this product
Great gentle clenaser
If you're looking for a cleanser that doesn't strip your skin of its natural oils but still thoroughly cleanses, this is for you. Doesn't clog my pores or dries my skin. It's pretty much perfect. The big bottle lasts quite a while too. If used 2 a day it can last for up to 1.5 to 2 months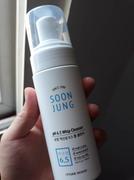 I recommend this product
I am buying this again.
It's very mild. It did not cause any breakout. I am buying this again.
08/10/2020
Tej

Philippines
I recommend this product
Mild and doesnt cause a breakout
I normally use the facial foam cleanser from DR.BELMEUR but I had to switch to this product since the malls were closed. I had been using this product for over 2 weeks already and it did not breaks out my skin. I am going to buy this again.
09/08/2019
Anonymous

Philippines
I recommend this product
Good maintenance product :)
I have pimple problems and this one didn't aggravate it. It is a very mild cleanser that doesn't leave your skin too tout or too dry. Didn't cure my pimples like I hoped to given the expected benefits of its main ingredients namely- madecosseside and panthenol but for people who don't have extra skin problems, I think it would be a good product to use everyday.
07/16/2019
Roselle Ann C.
I recommend this product
Very good ingredients suited for all skin types YET
Hello guys. This is the first ever skincare product that i have ever used since starting my "regimen". I saw this online and decided to bought it here in gobloom, actually, it was a very nice experience. The packaging is a 10/10. super sealed and it came up with freebies! Texture is foam obviously and 2-3 pumps is sufficient The performance was a 6.3/10. It broke me out on which i first thought as purging but, no one can purge off a cleanser. I wanted to love this so much since it's very gentle and comfortable but it just broke me out, and no lies here, i used this for a month and within that month, i got random break outs all over which i thought was normal but this does not really happen to me though i dont sleep well so i came to the conclusion that this product is not for me. BUT! I'm not hating this even if the relationship was so-so.... it's still a wonderful product. Very gentle and friendly to the skin... but then ymmv and it didnt worked for me. hehe hope this helps