Skincare Set
customers are viewing this product
Info
[Yes I Am Toner AHA 5%]
The substance of AHA effective in softly taking care of dead skin cells of skin surface makes your skin pure and smooth.
1. Exfoliation & Maintenance of moisturizing power
2. Alcohol-free
3. Shiny "tone" care

Suggested Use
1. This is used in the stage of "toner" after cleansing
2. With a cotton pad soaked in toner, use it along your skin texture, like when you wipe your skin.


[Jumiso All Day Vitamin Brightening & Balancing Facial Serum]
With antioxidant effects of pure Vitamin C and adenosine, your somber skin tone will become just healthy and bright.
1. Improvement of skin tone
2. Whitening Care
3. Wrinkle improvement

Suggested Use
After cleansing in the evening, arrange your skin texture softly and apply a small amount of serum evenly in the face.


[Have A Good Cream Snail & Centella]
Snail slime and centella asiatica extract contribute to smoothly soothing your sensitive/irritated skin.
1. Improvement of skin blemishes
2. Creation of moisturizing membrane
3. Soothing care

Suggested Use
Apply as the last step for your skincare. Put appropriate amount on your face and gently massage until it absorbed.
Go Bloom & Glow is the official dealer of Jumiso in the Philippines.
Ingredients
Please refer to individual product listing.
Customer Reviews
Write a Review
Ask a Question
Filter Reviews:
serum
toner
face
results
Jumiso
skin care routine
reviews
something
Dear Klairs
sunscreen
I recommend this product
Jumiso Skincare Set
The Jumiso Yes I am Toner AHA, is perfect for all skin type and alcohol free. What I noticed with this product is that my skin felt a little tighter and moisturized. Drop the Vita C gives me an oily feel at first but soon will fade once the skin completely absorbs the product. It contains Vitamin C which really helps in brightening skin, lighten dark spots and prevents premature signs of aging. Have a Good Cream contains Snail and Centella which guarantees deep hydration and maximum skin repair while sleeping. It is not skicky and gives me a good skin texture the following morning.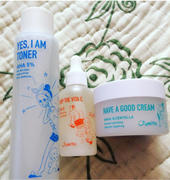 I recommend this product
I love it!
Saw this Korean products on youtube by one blogger that is using these products as well. I got curious and it was a perfect timing since I had breakouts that time and I am in a hype looking for products that will help lessen my spots. Bought these and the transaction is so smooth and the response is very prompt. So far I am in a week using these jumiso set and I'm so loving it as my skin became smoother at nabawasan yung pimples ko. Even ung small dark spots ko before ay naglighten na sya ng konti. I will continue the use and definitely will order again! I highly recommend these set! Give it a try!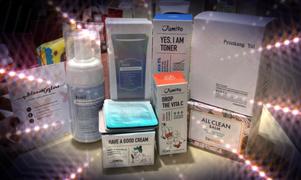 02/25/2021
N***

Philippines
I recommend this product
Delivers on its promise
I have a combination face that is very oily on the t-zone and very dry all else that it would be flaky. Luckily, I don't have much acne; just general redness on the face. I have used this set for a month and within that time I have already noticed that that my complexion evened out, brightened and looks pretty moisturized. The toner and cream will go a loooong way but the serum runs out first among the the 3. So it may be best to order a spare. I did, belatedly.
12/05/2020
Anonymous

Philippines
I recommend this product
Amazing! Worth-buying :)
I got my skin over exfoliated after using aha/bha/pha product :( so i was looking for something that would really moisturize my face and would help my skin heal better. I was torn between Dear Klairs and Jumiso but decided to try Jumiso since it is cheaper and has good reviews too. And guess what? I'm super loving the products. I have with me the set (toner, serum, moisturizer) and i like all three. For the toner, it only has aha so it is gentle. For the serum, it really lives up to its claim which is brightening since i can really see my face is getting fairer. With my current skin care routine, i now believe that less is more. So, i am only using the toner and serum on some days of the week (2x or 3x a week) and every day for the cream moisturizer. Yep, everyday and i use it day and night. I use it with my sunscreen before applying make-up and it has a good result. Not oily or greasy, just perfect for me. I waited a month after using Jumiso to finally give my review but actually, it took only a week of using when i started seeing good results. I don't usually give reviews but i love how Jumiso took care of my skin so i'm doing this. (Jumiso, beke nemen haha) ❤