Rohto Melano CC Concentration Measures Essence 20ml
customers are viewing this product
Rohto Melano CC Concentration Measures Essence is an all-star skin brightener that features Vitamin C to break up skin discoloration and dark spots. This hard-hitting essence is also a stepping stone on the path to skin perfection, thanks to its unique blend of active ingredients — all ready to instantly fix damages wrought by sun exposure.
Info
What it does:
The fast-acting Rohto Melano CC Concentration Measures Essence is loaded with the skin-loving Vitamin C that addresses hyperpigmentation issues like dark spots and discoloration caused by acne scarring and UV exposure. It helps neutralize incoming free radicals that can cause oxidative damage to the skin. Enhanced with Vitamin E, it exfoliates dead cells from the skin surface and unify skin tone for a more even complexion. Dipotassium Glycyrrhizate and Thymol also combine forces in this product to calm inflammation and redness and whisks away all acne-causing bacteria from the skin. Restorative and refreshing, it encourages cell renewal to accelerate healing of acne wounds and minimize the appearance of pores. A no-frills formula that does exactly what it says it will, it is one of the best essences in the beauty market worth the splurge.
How to use:
After toning, pump 4-5 drops of the essence in the palm of your hand. Gently massage onto face and pat for better absorption. 
What you get: 
(1) Rohto Melano CC Concentration Measures Essence 20ml
Ingredients
Ascorbic acid (active vitamin C), tocopherol acetate (vitamin E derivative), dipotassium glycyrrhizinate, isopropylmethylphenol, vitamin C tetraisopalmitate, ethoxydiglycol, alpinia catfish seed extract (alpinia white), BG, edet Acid salt, viscosity modifier, perfume
Customer Reviews
Write a Review
Ask a Question
Filter Reviews:
squeeze tube packaging
tube
travel
Packaging
makeup
Vitamin C serum
I recommend this product
It's a holy grail product for a reason
Any skincare junkie scouring the internet would have eventually stumbled upon this product. It's a drugstore japanese product that has held much traction in the skincare world. It has glowing reviews all over reddit and even beauty bloggers like Gothamista and TheBeautyBreakdown have had wonderful things to say about it. So I bought the product and boy, was I impressed. It cleared with my hyperpigmentation which was from a reaction to a sunblock. The dark spots were gone in a week. Amazing! I wish Go Bloom and Glow would restock this item because I can no longer NOT have this in my routine.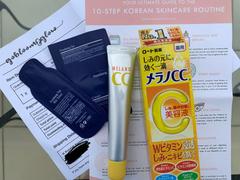 08/26/2021
Anonymous

Philippines
I recommend this product
Melano cc
I love it. At first it's too oily for my skin but my skin got used to loving this product.
11/11/2020
Christine

Philippines
I recommend this product
Non Oily & Gentle Vitamin C Serum
This is a great introductory Vitamin C Serum as it is quite gentle. Great for use under makeup as it absorbs quickly and is not overly oily . Packaging is also very handy for travel and you know it will not oxidize easily as the squeeze tube packaging prevents air from getting inside the tube. The only con is I feel like I would run out of this product fast.
09/03/2020
Anonymous

Philippines
Been using it incosistently but it's doing it's job so far !
08/01/2020
Anonymous

Philippines
Immediate results for blemished skin!
Incredible! I can't quite put into words how fast-acting this is. In as early as one use, you'll notice a huge difference on blemished skin. No irritation or initial purging, just immediate calming down as well as lightening of pigmentations. Able to combat the irritation I had from a different product. I'm just blown away by my experience. This has been raved about by many due to a solid reason. Can't wait to witness its full effect in the long run!