AHA BHA PHA 30 Days Miracle Toner
customers are viewing this product
Info
Some By Mi AHA BHA PHA 30 Days Miracle Toner is a best selling anti-acne toner all over Southeast Asia that works effectively as an exfoliator to remove dead skin cells, leaving the skin flawless, smooth, and radiant. The Some By Mi Miracle Toner also works to tighten pores to remove blackheads and whiteheads whilst moisturizing and hydrating your skin at the same time. See what the hype is all about!
Volume: 150ml
Review(s) on Some By Mi AHA BHA PHA 30 Days Miracle Toner:
"I just got my package yesterday and started using it right away. I had a few red spots and white heads to begin the challenge. After one use I am already seeing less redness hence why I am giving this 5 stars. I will keep this updated as i keep going with the 30 days. I have very sensitive skin and am not having issue with the toner!" - Joy (from amazon.com)
"I've just started using it but I can already feel my skin less clogged up. My face feels fresh and it makes sense since it contains AHA/BHA/PHA acids. I will update after 30 days of continuous usage." - Carmen R. (from amazon.com)
"Gentle enough for my really sensitive skin. Prevents breakouts and really makes my skin look healthier when used in combination with gentle wash, moisturizer and sunscreen. I recommend you give it a try, just note that it can be a bit tightening so pls moisturize~" - sophiefey54 (from ebay.co.uk)
How to Use:
After cleansing, apply the Some By Mi AHA BHA PHA 30 Days Miracle Toner on your face and neck using cotton pads.
Ingredients
Water, Butylene Glycol, Dipropylene Glycol, Glycerin, Niacinamide, Melaleuca Alternifolie (Tea Tree) Leaf Extract, Polyglyceryl-3 Caprate, Carica Papaya (Papaya) Fruit Extract, Lens Esculenta (Lentil) Seed Extract, Hamamelis Virginiana (Witcn Hazel) Extract, Nelumbo Nucifera Flower Extract, Swiftlet Nest Extract, Sodium Hyaluronate, Fructan, Allantoin, Adenosine, Hydroxyethyl Urea, Xylitol, Salicylic Acid, Lactobionic Acid, Citric Acid, Sodium Citrate, 1,2-Hexanediol, Benzyl Glycol, Ethylhexylglycerin, Raspberry Ketone, Mentha Piperita (Peppermin) Oil
Orders are shipped within 24-48 hours of receiving the order, excluding Sundays and holidays.
Orders are usually delivered within 2-7 working days after shipping (excluding weekends and holidays). However, this is just estimated and not guaranteed because sometimes, there are delays that are caused by things that are beyond our control - either caused by the courier or the customers themselves, etc. (e.g. incomplete name, incomplete address, provided contact number cannot be reached, no person present to receive package, etc). So a gentle reminder to please double check your details and make sure there is an authorized person to receive your package. Should your order get delayed, feel free to contact us - we will do our best to help. :)
Returns, refunds, and exchanges are subject to the following conditions:
Due to the nature of our products, the ones valid for returns, refunds, or exchanges are only those received with manufacturing defect. 
Sale items are non-refundable and non-returnable.
Products that are defective can be refunded, returned, or exchanged within only 7 days upon receipt of your order. Outside this timeline, the product could have already been exposed to factors beyond our control which could have contributed to the damage/defect.
Products should be in its original purchase condition and must be unused.
Reviews
Customer Reviews
Anonymous
I recommend this product
01/30/2019
Some By Mi 30 day Miracle AHA BHA PHA toner and Serum Review
Eversince I used Some By Mi's Miracle toner and serum, I knew I found the one! It was only my first day of using the products, and yet It already did its job by drying out some of my acne. I am really inlove with these products and will definitely go for more once I ran out. Btw, I also made a review on my blog about these two, sharing how I loved them both! ❤️ hope you can also see it. Here's the link: https://thedailytine.home.blog/2019/01/27/my-night-time-skin-care-routine/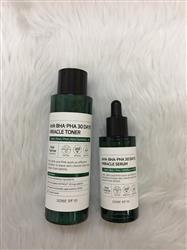 12/09/2018
My New HG Toner!
After over a week of using this, I can say that this is replacing my former holy grail toner. It makes my skin look oh-so fresh, supple, and radiant. However, I do have to note that I experienced skin purging during the first few days. I developed a few bumps on my forehead, and two pimples around the same area. Nonetheless, it did clear. Now I can't imaging my morning and night skincare routine wirhout this! I use it in conjunction with the cleansing bar and serum. Highly recommended!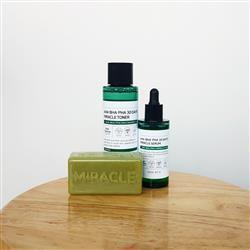 Ralph J.
Philippines
05/20/2020
Patience is the key.
On my second bottle now. My first went for 3 months, gently removes dirt and now my skin is smoother and pores are smaller, doesnt leave my skin dry. Cystic pimples are gone. A gentle exfoliator toner thats why i think i might need a stronger/faster face whitener for the acne scars. Btw, i have an oily acne prone skin, so these natural ingredients worked for me. Thanks for a fast smooth transaction despite the community quarantine. Got my order here in mindanao after a week. <3
Anonymous
Philippines
05/17/2020
Miracle Toner
It is indeed a Miracle Toner. It removed my blackheads and whiteheads especially on my nose. I highly recommend this product.